History of the Organization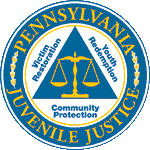 In 1967, Chief Juvenile Probation Officers from across the state met to form an organization that would represent their ideas, their standards for probation services and their desire to improve the juvenile justice system.
The Council speaks out collectively on topics such as: services to delinquent and dependent children, training, research, standards, professional status and compensation.
On November 14, 1997, in commemoration of the 30th Anniversary of the Council, the Governor of Pennsylvania cited the Council for its leadership on juvenile justice issues and for its diligence and dedication in creating a better system of rehabilitation for the youth of Pennsylvania.
HISTORY OF THE PENNSYLVANIA COUNCIL
OF CHIEF JUVENILE PROBATION OFFICERS
1967-2007
It was the year 1967, Lyndon B. Johnson was President; Hubert H. Humphrey was Vice-President and the Vietnam War was in full swing. On a cold autumn morning in Happy Valley, Pennsylvania (more commonly known as Penn State), twenty-two Chief Juvenile Probation Officers met on November 14 at the Nittany Lion Inn. The meeting was held to discuss the possibility of forming an organization to express the viewpoint of the Chiefs on matters of juvenile justice in Pennsylvania.
Present at the initial meeting were William Ambrose, Beaver County; Robert Shields, Bucks; Daniel Roberts, Cambria; John Humanick, Chester; Andrew Kistler, Crawford; Irving Groninger, Cumberland; Willis Hoover, Dauphin; Edmund Thomas, Erie; Reginald Curd, Franklin; George Sim, Fulton; John Dougherty, Huntingdon; Charles Adonizio, Luzerne; John Engle, Lycoming; J. Freeman Bragg, Indiana; E. Jane Crowell, Lancaster; James Drescher, Lebanon; Willis Brinker, Mercer; Anthony Guarna, Montgomery; Herbert Vallow, Mifflin; Charles Duncan, Northumberland; Larry Linder; Warren and Jack Carl, York.
Letters of support were also received from Aloin Cooper, Adams; Willing Gilling, Clearfield; Rudolph Zayak, Fayette; Hazel Weiss, Jefferson; Raven Ziegler, Lehigh; Henry McCool, Monroe; and Len Rosengarten, Philadelphia.
Willis Brinker chaired that first organizational meeting. While the Council's birth took place on that November morning, the gestation period began much earlier and was the culmination of numerous factors.
The earliest discussions focusing on the need for a forum to express the views of the Chief Juvenile Probation Officers began in the mid 1960's. Several former Chiefs recall such conversations usually occurring informally and coincidental with other meetings. At the time, the primary professional organization was the Pennsylvania Association of Probation, Parole and Correction (P.A.P.P.C.), which at one time had been limited to county probation and parole staff. As P.A.P.P.C. broadened, there was some feeling that it could no longer respond to the particular needs of the juvenile justice system, especially, juvenile probation services.
Dissatisfaction with the ability of P.A.P.P.C. to respond to the needs of county Juvenile Court personnel came to a climax of sorts over S.B. 677 of 1967. This Bill would transfer the Juvenile Probation Grant from the Department of Public Welfare (D.P.W.) to the Juvenile Court Judges' Commission (J.C.J.C.).
In 1967 and preceding years, D.P.W. administered grants to juvenile probation programs and controlled training standards and programs for juvenile probation officers. There were strong and fundamental differences between D.P.W. administrators and Juvenile Court practitioners.
One of the differences centered on training and the general perception among juvenile probation officers that they were viewed by D.P.W. as second-class practitioners. Another area of contention was that D.P.W. wanted the authority to tell Chiefs which probation officers should go to training. Irv Groninger of Cumberland County wrote, in a draft of the Early History of the Council, shortly before his untimely death, that:
"Many probation officers were beginning to resent the Department of Public Welfare treating probation officers as minors in need of care, guidance and control of the Department of Public Welfare."
Continuing from Irv's comments on training:
"It was common to have panels made up of Youth Development Center personnel to inform juvenile probation personnel in effect, 'What the score is.' Your author had no objections to learning from Youth Development Center personnel but being of sound mind felt compelled to pose the question as why the Department of Public Welfare seemed to look upon us as a group of incompetent incompletes needing to be made whole by D.P.W. personnel when in fact we also had something to offer that would have been helpful to Y.D.C. personnel to have us participate as instructors or resource persons in training. These kinds of questions, at the time, seldom generated any delight on part of the Department of Public Welfare bureaucracy."
"Training back then, at least in the eyes of D.P.W., meant having a Master of Social Work (MSW) degree. Much pressure was put upon those without the M.S.W., especially if they had any hopes or ambition to move up in the probation/human service field. At the height of this pressure, I'm sure some probation officers began to feel a bit illegitimate and maybe even in need of some soul searching consultation with their minister." In Irv's opinion: " Many of the key Department of Public Welfare officials felt most probation officers were not qualified to be probation officers as they were not 'trained.'"
Another point of difference with D.P.W. concerned proposed regulations for adjudicated youth. Irv Groninger gave particular mention to Anthony Guarna and Jack Carl as frequent and capable adversaries of D.P.W. in this realm.
There was also considerable unhappiness with the level of grant funding. In 1967, there had been several years without an increase in funding levels and there was the perception of inequity in funding levels of child welfare staff and juvenile probation officers. This was viewed as clear evidence of a prejudicial attitude on the part of D.P.W. The aforementioned problems were part of the background scenario as 1967 began.
Drawing again from Irv Groninger's work, he related that:
"During a Juvenile Probation Training Institute held at the Pennsylvania State University, April 3 through April 7, 1967, there were twenty-three Chief Juvenile Probation Officers who expressed an interest in exploring the possibilities of forming an organization of Juvenile Probation Officers for the purpose of determining appropriate standards of services to be provided through probation departments and collectively expressing an opinion or taking a position in what happens to Juvenile Probation. In order to examine the appropriateness of this plan for organizing, the group recommended names of persons representing each of the regions established within the Pennsylvania Association of Probation, Parole and Correction. A planning committee meeting was to be held at a central location and the representative was to return to their region to express the views of this committee and obtain the regional position on such a plan."
Willis Brinker, Chief Probation Officer of Mercer County, was selected as Acting Chairman of the Chief Juvenile Probation Officers. The initial committee meeting was held on June 16, 1967 in State College. Present were: Jack Carl, Chief Juvenile Probation Officer, York County; Irvin Groninger, Chief Probation Officer, Cumberland County; Charles Adonizio, Chief Probation Officer, Luzerne County, Charles Duncan, Jr., Esq., Chief Probation Officer, Northumberland County; Willis Brinker, Chief Probation Officer, Mercer County; Andrew Kistler, Chief Probation Officer, Crawford County and Daniel Roberts, Chief Probation Officer, Cambria County. Absent were: Ruth Greenwald, Chief Probation Officer, Allegheny County; Anthony Guarna, Chief Probation Officer, Montgomery County and Dr. Leonard Rosengarten, Director, Juvenile Division, County Court of Philadelphia.
The June 16, 1967 minutes indicated that Jack Carl believed an organization should be formed even if it was not accepted by the Pennsylvania Association of Probation, Parole and Correction. It was the opinion of Charles Duncan that the organization should form under the P.A.P.P.C. and be an arm to that association. After discussion, it was decided to form the Pennsylvania Council of Chief Juvenile Probation Officers under the P.A.P.P.C. The purpose of the Council was established as being for the promotion and development of juvenile probation services in Pennsylvania. Some of the objectives discussed at the first meeting were: standards, advisory capacity, case loads, research and salaries. Each person present was to act as a steering committee and after reviewing the minutes, return them to Willis Brinker who in turn would forward them to the 67 counties, along with the stated objectives and purpose. It was decided that upon a favorable response, the plan to create the Council would move forward.
On September 14, 1967, Richard Farrow, then Acting Commissioner, Office of Children and Youth, Department of Public Welfare, presented a paper to the Pennsylvania Crime Commission's Task Force on Juvenile Delinquency. He proposed a reorganization of family services at the local level that included probation services in a state-operated system. According to Mr. Farrow:
"Probation should be part of the agency. Pre and post institutional care would be a function of the agency, as well as local group care. It would be a public family and child care agency."
Irv Groninger had attended the presentation and quickly circulated Mr. Farrow's position to the other Chief Juvenile Probation Officers. It prompted an October 23, 1967 letter from Jack Carl of York County to all Chiefs attacking D.P.W.'s position on local juvenile probation services, describing it as their "Final Solution" (a term apparently suggested by Mr. Groninger). Chief Carl's letter was a call to arms that brought on considerable controversy and a strong response from Mr. Farrow.
The controversy reflected differing opinions regarding the care of delinquent children and not necessarily the clash of personalities. As Irv Groninger recalled:
"Mr. Farrow as an individual is a fine gentleman. He expressed his views and philosophy as he saw them and those of us out in the field responded as we deemed appropriate."
The exchange of views with D.P.W. hastened the movement toward a separate organization of Chief Juvenile Probation Officers. Mr. Groninger recounted:
"The steering committee met again on August 25, 1967. We were invited to attend an annual work conference of the Pennsylvania Council of Juvenile Court Judges at Dickinson Law School. On October 25, 1967 Acting Chairman Brinker notified the Chiefs that we now concur that it is necessary to have all Chief Juvenile Probation Officers come together to consider the importance of forming an organization. Brinker did a good job as Acting Chairman. He was articulate, energetic and had a knack of being able to get right down to the core of the issue. People listened to Will, even when he was not serious."
The organizational meeting was scheduled for November 14, 1967 in State College. The results of that first meeting were recorded in the minutes and summarized in the following press release issued shortly after the meeting.
Patriot News
NEWS RELEASE
CHIEF JUVENILE PROBATION OFFICERS FORM STATE UNIT
"County Chief Juvenile Probation Officers met yesterday at State College, Pennsylvania and organized on a statewide basis."
"The name of the new association is the Pennsylvania Council of Chief Juvenile Probation Officers. Irvin L. Groninger, Chief Probation and Parole Officer of Cumberland County was named President, Andrew A. Kistler, Chief Juvenile Probation Officer of Crawford County, Vice-President and Jane Crowell, Chief Probation Officer of Lancaster County, Secretary-Treasurer. Charles E. Duncan, Jr., Esq., Chief Probation Officer of Northumberland County was named Parliamentarian and legal counsel and Jack N. Carl, Chief Juvenile Probation Officer of York County, Public Relations and Publicity Chairman."
"The purpose of the organization is to collectively take a position relative to services to delinquent children, standards, training, professional status, research and salaries."
One of the first items of business for the newly formed Council was the passing of a resolution in favor of Senate Bills S677, S1157 and S1158. This legislation provided the Department of Justice with the authority to make annual grants for Juvenile Probation Services rather than D.P.W. The passing of this resolution was, in effect, a vote of confidence in the Juvenile Court Judges' Commission, which functioned within the Department of Justice and acted as a service agency to the Juvenile Courts and Probation Offices. The Council expressed regrets upon learning that a few community agency groups that had little direct concern with the problem and little knowledge of the issues involved had allowed themselves to be used in the effort to defeat the legislation.
The Council noted that as a peripheral concern of D.P.W., state grant funds for the aid of the county Juvenile Probation services had not been increased in the preceding three years. As a result, in many counties, juvenile probation officers' salaries had languished to the point where it had become quite difficult to recruit qualified career-minded officers. In contrast, State grants available through the D.P.W. for County Welfare Services had substantially increased year-by-year, creating an ever-growing salary disparity between County Child Welfare and Juvenile Probation Officers: a disparity that was not justified as the skills involved were essentially the same.
From the very beginning, the Council was an active and vocal organization. By 1969, all but six counties belonged. In 1968, the Council was instrumental in securing passage of Senate Bill 677 which transferred grant authority from D.P.W. to J.C.J.C. That legislative success reflected an enduring close relationship between the Council and the judges and staff of the Commission, from the early administrative oversight of Chris Zander through Ron Sharp and Jim Anderson. The organizations have complemented each other in their mutual striving for better services for juvenile offenders.
The partnership between the Council and J.C.J.C. has been an important factor in many of the major events that have transpired during the Council's forty-year existence.
In 1972, the Council and J.C.J.C. jointly influenced the content of the Pennsylvania Juvenile Act and the development of appropriate residential programs for delinquent youth. In 1974, Congress passed the Juvenile Justice and Delinquency Prevention Act in order to provide a comprehensive and coordinated approach to juvenile delinquency. The Commonwealth responded to this national legislation by codifying amendments to the Juvenile Act in 1976. Significant amendments to the Act were made during the following two years. The Council was extremely active in promulgating these changes. The 1977 amendments removed ungovernable behavior from the definition of "delinquent act" and added "dependent child" as a new definition. The minimum age for a delinquency adjudication was set at ten years. New time frames were established to comply with national standards for the filing of petitions and for disposition hearings where youth were held in detention. Amendments in 1978 restricted the availability of records to the public, prohibited detention in jail and required a petition within twenty-four hours of detention.
The Council and J.C.J.C. were instrumental in the development of Juvenile Court standards in 1979, the implementation of detention standards arising from the Coleman-Stanziani decision, the Master's Degree program at Shippensburg University and the implementation of training for probation staff throughout the Commonwealth. A shift in emphasis toward public safety and accountability led to many bills being enacted in the 1980's. Fingerprints and photographs, confidentiality issues and a "dangerous juvenile offender" category were added to the Juvenile Act. Another act in 1991 brought Pennsylvania into compliance with Federal requirements restricting the holding of juveniles in local police lock-ups. The Council subsequently received a grant from the Pennsylvania Commission on Crime and Delinquency (P.C.C.D.) in order to hire an employee to monitor compliance throughout the Commonwealth.
In 1995, a special session of the legislature enacted twelve laws amending the Juvenile Act. An important amendment to the preamble incorporated principles of Balanced and Restorative Justice (BARJ). In addition, for the first time, youth who committed certain felonies faced prosecution in the Criminal Court.
The Council entered its fourth decade faced with the formidable task of implementing BARJ into the fabric of probation work. Again, through collaboration with J.C.J.C. and with funding from the P.C.C.D., national experts were brought in to deliver training and technical assistance. The Council redesigned its committee structure to reflect this effort and became an integral part of the Commonwealth's Balanced and Restorative Justice Implementation Committee. Council members have taken an active role in the development of Victim Awareness and Court and Community Collaboration curricula, as well as numerous monographs and "white papers" on accountability, community protection and competency development. The Council's Public Relations Committee was tireless in its effort to educate the public about BARJ and report the "good news" with respect to success locally and statewide.
The Council has continued to be a presence with respect to legislation affecting the juvenile justice system. After forty years of existence, its input is regularly sought and well received. Issues such as DNA testing, victim's rights, record sharing and the treatment of sex offenders are a few examples where Council has taken a position and exerted its influence on the Legislature.
Along with J.C.J.C. and the Center for Juvenile Justice Training and Research, the Council has been actively involved in the development of the Juvenile Case Management System: a statewide case management and statistical reporting program, currently in use by 64 counties. From its early incarnation as a DOS-based system to the web-based application today, Council members have played a role in its development and refinement. Council has also supported the efforts to define and report system outcomes on both a local and state level. These outcome measures provide the basis for local and state "report cards" that allow Juvenile Courts and probation departments to share their success with the public.
The Council was instrumental in leading the change in philosophy away from "fortress probation" to community-based probation, as required under the BARJ principles. Special emphasis was placed on working with offenders and their families in the community in order to meet community protection and accountability goals.
Predicated on a published study documenting the success of school-based probation, of which Council members were a driving force, Governor Tom Ridge, over a period of several years, dramatically increased funding for specialized probation services that led to an astounding increase in school-based and community-based officers throughout the Commonwealth.
As BARJ promoted probation officers working actively in their communities, Council was keen to recognize and respond to issues relative to officer safety. The Council has provided input relative to the development of the Phase I and II safety curricula. As an increasing number of probation departments began arming their officers, Council has been represented on the County Probation and Parole Officers' Firearms Training and Education Commission.
The efforts of the various Council committees over the past ten years have contributed to Pennsylvania's recognition as a national leader in the area of juvenile justice. This recognition led to Pennsylvania being selected first by the MacArthur Foundation for its Models for Change juvenile justice system reform effort. Council members past and present have played key roles in the initiative focusing on aftercare, mental health and disproportionate minority contact.
One common thread has been in place over the course of the Council's forty years' of existence. Conflict with D.P.W. was central to the Council's creation and has, from time to time, been an agenda item at Council meetings over the years. Long time members will recall the beginning of the Camp Hill Project discussions in 1970, the visit of Jerome Miller, then D.P.W. Commissioner of Children and Youth, in 1975, and the turmoil surrounding Act 148 funding in the late 1970's.
During the past decade, the Council made a concerted effort to educate D.P.W. as to the unique differences between the juvenile justice and child welfare systems. For a number of years, members of the Council's Executive Committee met regularly with D.P.W. officials in a sincere attempt to bridge the gap between the two systems. During the past two years, the Council has welcomed the Deputy Secretary of the Office of Children, Youth and Families to both its' Executive Committee and General Membership meetings. Adequate funding for juvenile probation services remains an issue that dates back to the Council's creation. The Council has consistently fought to return the focus from "TANF," "RMTS," "IV-E," and "MA-R" back to BARJ in the face of pressure from D.P.W. to seek more Federal funding for services.
During its lifetime, the Council has made a concerted effort to strengthen itself, first by opening its membership to juvenile probation advisory staff and then welcoming an increasing number of associate members. The Council has also promoted itself by creating a website (
www.pachiefprobationofficers.org
). The website continues to evolve and now serves as an interactive resource for its members.
Finally, as the Council enters its fifth decade, it recognizes its long and valuable partnership with the Juvenile Court Judges' Commission. The Commission, under the creative and energetic leadership of former Council President Jim Anderson, has provided the resources and technical assistance that has allowed the Council to flourish. Both organizations have benefitted from the relationship, as have the countless youth and families who have passed through the system during the past forty years.
This document was first published as the "Early History of the Pennsylvania Council of Chief Juvenile Probation Officers" in conjunction with the Council's 20th anniversary in 1987. The program from the anniversary celebration held that year notes a special thanks to William Long and Earl Stoudt for their efforts in compiling and authoring the first history of the Council. The Early History was updated at the time of the Chief's 30th anniversary in 1997 and again in 2007.
The Council considers this document to be a "living history" of the organization and intends to update it as each ten-year anniversary is marked. A special thanks to Richard Steele and Lawrence DeMooy for their efforts in updating this document for the 40th anniversary.