Statement of Purpose:

We dedicate ourselves to working in partnership to enhance the capacity of Pennsylvania's juvenile justice system to achieve its balanced and restorative justice mission by:

Employing evidence-based practices, with fidelity, at every stage of the juvenile justice process;
Collecting and analyzing the data necessary to measure the results of these efforts; and, with this knowledge,
Striving to continuously improve the quality of our decisions, services and programs.
For more information on Pennsylvania's Juvenile Justice System Enhancement Strategy, click on 'JJSES' in the left navigational bar

JJSES Bench Cards
---



President's Message
Teresa A. Wilcox, President
Welcome to the website of the Pennsylvania Council of Chief Juvenile Probation Officers. The Council has a rich history of demonstrating leadership and commitment to advancing best practices in the field of Juvenile Justice. The efforts to encourage and support these practices, however, are done in partnership with others. The relationship the Council has with the Juvenile Court Judges' Commission, Pennsylvania Commission on Crime and Delinquency, Administrative Office of Pennsylvania Courts, Bureau of Juvenile Justice Services, Department of Human Services, Center for Juvenile Justice Training and Research, Pennsylvania Council of Children, Youth & Family Services, Office of Victim Advocate, and so many others, has created an atmosphere of mutual commitment to advancing our system.

Pennsylvania has always been a national leader in Juvenile Justice. However, over the last five years, we committed to enhancing our 1995 Balanced and Restorative Justice mission through the implementation of our Juvenile Justice System Enhancement Strategy. Through each of the stages of JJSES, we continue to hold youth accountable to victim restoration, we continue to identify, manage and minimize the risk of re-offending in our communities, and we continue to provide youth with individualized competency development skill sets to enable them to be more productive members of our communities. You will find that our juvenile justice partners have been working harder than ever to enhance their own skill sets and employ evidence based decisions at each of the ten decision making points in the juvenile justice system. Over time, we believe these practices wil provide for less victims, safer communities, and more productive and competent youth.

For a comprehensive overview of exactly how we have been advancing BARJ through JJSES, please reference the newly released document Advancing Balanced and Restorative Justice through Pennsylvania's Juvenile Justice System Enhancement Strategy.

While we are committed to advancing BARJ and JJSES, the Council has faced many challenges and external system expectations over the past 40 years. It is through the hard work and dedication of the Council members and our system partners that we have persevered. We remain committed to making Pennsylvania a best practice model and at the forefront of juvenile justice initiatives for other states and countries. Pennsylvania is often recognized as one of the leading juvenile justice states and routinely asked to partner with others in research and grant opportunities which allows us the opportunity to refine and improve our system practices. We hope you find this website a valuable and informative tool, with resources to assist you in accomplishing the goals of your organization.

---
Chiefs' Council Announcements
Retirements

Keith Snyder (JCJC Executive Director)
Keith Snyder retired from the Juvenile Court Judges' Commission (JCJC) on July 22, 2016 following 36 years of service to Pennsylvania's juvenile justice system. Keith began his career in 1980 as a juvenile probation officer in Dauphin County and joined the staff of the Juvenile Court Judges' Commission as a Juvenile Court Consultant in 1987. Keith was promoted to the positions of Director of Policy and Program Development in 1993, Deputy Director in 2000, and Executive Director in 2014 following the retirement of James E. Anderson. While at Dauphin County, he received JCJC's Juvenile Probation Officer of the Year award for 1987.
Keith's influence and leadership have been significant. He has led several major statewide juvenile justice system reform initiatives in Pennsylvania over the past ten years. He served as Chair of Pennsylvania's Mental Health/Juvenile Justice Coordination Targeted Area of Improvement (TAI) in conjunction with Pennsylvania's Models for Change initiative, and received a national "Champion for Change Award" from the John D. and Catherine T. MacArthur Foundation for his work in that area. He also served as first Coordinator of Pennsylvania's comprehensive Juvenile Justice System Enhancement Strategy (JJSES) beginning in 2010. Keith served as President of the Pennsylvania Association on Probation, Parole and Corrections from 1996-1997, and held several gubernatorial appointments over the years including memberships on the County Probation and Parole Officer's Firearm Education and Training Commission, the State Advisory Panel for Special Education, the Targeted Community Revitalization and Crime Prevention Advisory Committee, the Pennsylvania Commission on Crime and Delinquency and the Juvenile Justice and Delinquency Prevention Committee. He is widely known, respected, and sought after across the Commonwealth and beyond for his knowledge, commitment, and passion for the juvenile justice system and at-risk youth in general.
As per Keith's wishes for a "low key" sendoff, current and former members of the JCJC staff celebrated his retirement at a dinner held on July 15. The Executive Committee of the Pennsylvania Council of Chief Juvenile Probation Officers also hosted a dinner in Keith's honor on June 9 at Seven Springs Mountain Resort.
Keith holds both Bachelors and Masters Degrees in Administration of Justice from Shippensburg University. In etirement, he plans to spend time with his family including his wife, Tracy, and sons Mike and Rob. Additionally, Keith plans to travel extensively, starting with a six week excursion to Australia, New Zealand and Tasmania. He also will provide some "limited" ongoing consultation work nationally on issues of juvenile justice reform.
Robert Stanzione (Bucks County)
On December 4, 2015 Bob Stanzione, Chief JPO of Bucks County Juvenile Probation Department retired after 40 years in the juvenile justice system. Following his graduation from Penn State University with a Bachelor of Science Degree in Law Enforcement and Corrections in 1975, Bob was hired as a child care worker at the Bucks County Youth Center and as a case worker for a community based provider. It was a short stepping stone that led to his hiring in 1976 as a JPO in Bucks County. While working as a JPO, he also worked as a live-in house parent at one of the county run group homes where he met his wife Kathy. In 1979, he was lured away from Bucks County to take the position of Director of Training at the Juvenile Court Judges' Commission (JCJC). He returned to Bucks County Juvenile Probation in 1981 where he remained until his retirement serving as a line probation officer, intake officer, supervisor, deputy chief, and for the past 11 years as chief of the department. Additionally, Bob was a member of the first graduating class of students to go through the Master's Degree program at Shippensburg University offered through the JCJC.

During his career, Bob was an active and valuable contributor to the juvenile justice system in both Bucks Countyand the Commonwealth of Pennsylvania. As a member of the PA Council of Chief Juvenile Probation Officers, he was a member of the executive committee and leadership team serving as President, Treasurer, and chair of the Grants Management, Planning, and DHS Committees. He was known statewide as an expert on the Needs Based Budget and advocated and encouraged juvenile probation departments to take an active role in the Needs Based Budget preparation. He was an active participant during the Interbranch Commission hearings on juvenile justice reform and in 2009 was awarded "Chief of the Year" at the PA Conference on Juvenile Justice.

Mr. Ted Rice was appointed to the position of Bucks County Chief Juvenile Probation Officer.


Steven Custer (Montgomery County)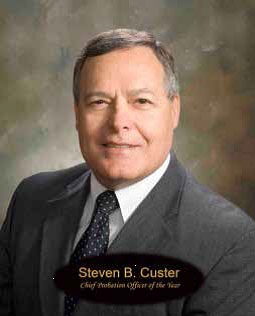 On December 31, 2015, Steve Custer retired from Montgomery County as the Chief Juvenile Probation Officer following 44 years of service to the department. Mr. Custer began his career in Montgomery County Probation Department as a line probation officer in 1971. He was appointed Chief Juvenile Probation Officer in March 2000. During his tenure in Montgomery County, Steve worked in various capacities within the department, including line probation officer, intake officer and supervisor. Steve was President of the Pennsylvania Council of Chief Juvenile Probation Officers from 2006-2007. He was recognized as Chief of the Year by the Juvenile Court Judge's Commission in 2008.

Mr. Custer received his Bachelor of Arts in Political Science from Ursinus College in 1971, and a Master of Arts degree in Education and Secondary Counseling from Villanova University in 1975.

Mr. Francis J. Snow was appointed to the position of Montgomery County Chief Juvenile Probation Officer.

---
What's New
2017 Pathways for Victims' Services Conference
Posted March 08, 2017
The PA Pathways for Victims' Services Conference provides an opportunity for victim service providers and allied professionals to join together for national keynote speakers, informative workshops, networking opportunities, and the presentation of the Governor's Victim Service Pathfinder Awards.
SAVE THE DATE - - 50th Anniversary Celebration
Posted December 29, 2016
PA Council of Chief Juvenile Probation Officers will be celebrating their 50th Anniversary on November 30, 2017 - Nittany Lion Inn, State College
Standard Program Evaluation Protocol (SPEP)
Posted January 11, 2017
SPEP Score Interpretation and recently updated SPEP Scores
Recent leadership appointments to the Juvenile Court Judges' Commission
Posted October 03, 2016
On July 23, 2016 Richard Steele was appointed Executive Director of JCJC and Robert Tomassini was appointed Deputy Director of JCJC
The Pennsylvania Juvenile Justice Recidivism Report - Juveniles with Cases Closed 2007 - 2012
Posted September 26, 2016
2015 PA Juvenile Court Dispositional Report
Posted August 23, 2016
This report provides an overview of juvenile court dispositions in Pennsylvania during 2015 and preceding years, and summarizes juvenile court statistical data provided by county juvenile probation departments.
Considerations in Response to PA's Sexting Statue - - Act 198 of 2012
Posted May 17, 2016
Truancy and School Dropout Prevention: Report of the Truancy Advisory Committee
Posted November 02, 2015
The Joint State Government Commission's final report was completed and sent to the Governor. This document can also be viewed on their website http://jsg.legis.state.pa.us
OCYF Region Meeting: Finance Reform Workgroup
Posted April 23, 2015
Philosophical basis for the operation of Juvenile Justice
Integrating Bullying Prevention and Restorative Practices in Schools
Posted April 23, 2015
Considerations for Practitioners and Policymakers
Interstate Compact for Juveniles
Posted March 23, 2015
An overview of the Compact Authority, Returns & 2015 Audit
PA Supreme Court Declares "Juvenile Offender" Provisions of SORNA Unconstitutional
Posted February 18, 2015
Pennsylvania's Supreme Court, in the case of In the Interest of J.B., ruled in a 5-1 decision that the "juvenile offender" lifetime registration provisions of the Sex Offender Registration and Notification Act (SORNA) are unconstitutional.
PREA Compliance & Governor Certification
Posted March 19, 2014
NCJA, the National Governors Association, and the Bureau of Justice Assistance (BJA) hosted a webinar in March, 2014 to discuss the audit and certification process under the Prison Rape Elimination Act (PREA).
Restitution Task Force Report
Posted February 20, 2013
The Restitution in Pennsylvania Task Force was convened by the Pennsylvania Office of the Victim Advocate in collaboration with the Center for Schools and Communities, and brought together key stakeholder individuals, agencies and organizations across all stages of victim restitution work. The Task Force conducted a thorough review of restitution processes at the state and local level in order to identify gaps and develop recommendations/solutions to maximize the justice systems' effectiveness.
Guide to Risk Assessment Implementation
Posted February 20, 2013
The National Youth Screening & Assessment Project has published "Risk Assessment in Juvenile Justice: A Guidebook for Implementation." The guidebook details the purpose and nature of risk assessment, provides definitions of risk assessment concepts, describes some of the research evidence, and provides in-depth guidance on selecting and implementing an evidence-based tool.
Family Guide to PA's Juvenile Justice System
Posted November 20, 2012
If your child is in the juvenile justice system in Pennsylvania, this guide is for you. This guide was developed by the Family Involvement Committee of the PA Council of Chief Juvenile Probation Officers - a committee of family advocates and juvenile justice practitioners - to help families understand Pennsylvania's juvenile justice system and be better prepared to work closely with juvenile justice staff to promote positive outcomes for justice involved youth.