President's Message
Samuel E. Miller Jr., President
Welcome to the official website of the PA Council of Chief Juvenile Probation Officers.
The Council is a non-profit organization created over forty years ago to further the mission of Pennsylvania's Juvenile Justice System by promoting the use of best practices among the county operated Juvenile Probation Departments.
At its inception, the Council was comprised solely of Chief Juvenile Probation Officers who met to discuss current system issues, supervision strategies and service and funding needs. Over time, the Council has invited our key system partners into our organization including the Juvenile Court Judges' Commission, the Pennsylvania Commission on Crime and Delinquency, the Center for Juvenile Justice Training and Research, the National Center for Juvenile Justice and the extensive network of private and public service providers. The collaborative efforts of this coalition have allowed Pennsylvania to become one of the national front runners in the field of Juvenile Justice.
The effort to continue as a national front runner in the field of Juvenile Justice is reflected by the current Juvenile Justice System Enhancement Strategy. We are committed to working in partnership to enhance the capacity of Pennsylvania's Juvenile Justice System to achieve its Balanced and Restorative Justice mission, coupled with the resolve to employ evidence-based practices with fidelity at every stage of the Juvenile Justice process. Our goal is to improve the quality of our decisions, services and programs. This effort is a testament to our ongoing pursuit of excellence.
We hope you find this website informative. Feel free to contact us with your questions.


---
Chief's Council Announcements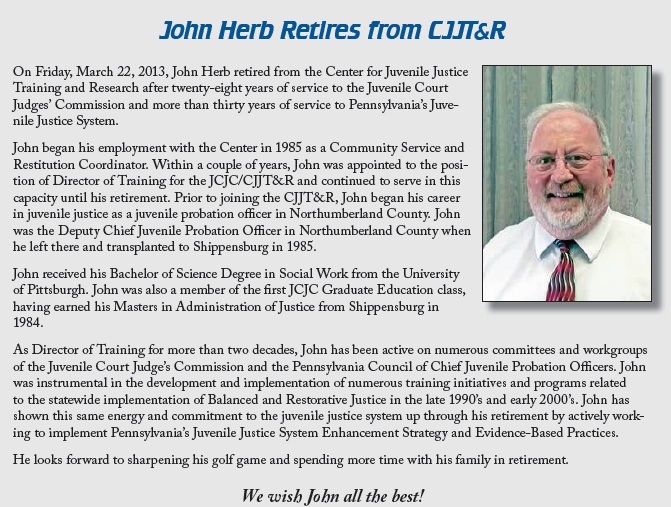 ---
2013 JCJC Conference



---
Juveniles for Justice - Comprehensive Case Planning

During September's meeting, juveniles representing "Juveniles for Justice" provided a presentation to the general membership. This outstanding presentation was focused on effective case planning and provided testimonials from two individuals participating in this initiative.
Juveniles for Justice, a youth engagement project through the Juvenile Law Center, includes young people who have been involved in the juvenile justice system and offers the youth an opportunity to assess the system's strengths and weaknesses, and then develop and implement advocacy projects to improve the system.

Juveniles for Justice selects new Youth Advocates and a new issue each year, starting in early fall. In 2011-2012, Juveniles for Justice Youth Advocates focused on promoting effective case planning in Pennsylvania—specifically, a computerized case planning program developed by the Juvenile Court Judges' Commission (JCJC) that enables probation officers, delinquent youth, and their families to develop a plan together to meet the youth's specific needs.
JCJC's computerized case plan is created before the youth's placement to determine how to meet his or her needs—including education, housing, and job readiness—during and after placement. This individualized case plan, which enables youth to give input and participate in their own rehabilitative process, is updated as progress is made and services are put in place.

In addition to advocating for this plan, Juveniles for Justice Youth Advocates produced the following video for probation officers and other juvenile justice officials who are training to use the case plan. The video explores the juvenile justice system from a youth perspective, demonstrating how effective and individualized case planning can help youth achieve their goals for the future.

The Juveniles for Justice will be participating in the Pennsylvania Conference on Juvenile Justice, being held November 7th – 9th. They will present their workshop, "The Missing Link: How to Incorporate the Youth Voice in Juvenile Justice Reform Efforts," on Thursday, November 8th. If you are interested in learning more about Juveniles for Justice, their projects, or presentations please contact Brian Mertens at 215-625-0551 or bmertens@jlc.org.


Click here to view the "Juveniles for Justice" video

---
PCCJPO Committee Spotlight
Family Involvement Committee
Enhancing family involvement in the juvenile justice has been getting a closer look over the past few years by the Chief's Council to the point where a new Ad Hoc Committee was created in 2010 to address this issue. The Committee's work is capturing state and national interest as we work to identify practices that support family involvement in the juvenile justice system, as well as develop original and Pennsylvania specific resources where needed.
The committee recently completed two large projects. The first was holding three regional forums (Chester, Lycoming, and Mercer Counties) to discuss the Monograph's findings and recommendations. Over 250 probation officers, providers, family advocates and family members of youth involved in the system attended the Forums and discussed ways to achieve better results for kids and families. The other project was an original curriculum on family engagement for probation officers delivered to PO's from 5 counties. The intent is to take the feedback received from the training and, once finalized, provide the training to other probation offices throughout the state using a juvenile justice/family advocate team approach. Currently also in development, and awaiting approval, is a Family Guide to Pennsylvania's Juvenile Justice System. This document will assist families as they navigate through the JJ system, educating them on the process, people they will meet, steps in the system they will face, and things they can do to achieve better outcomes for their children.
Click here for more information about the Family Involvement Committee
What's New
Pennsylvania State Adam Walsh Act / SORNA Legislation
Posted May 17, 2013
Act 111 was the response by the Pennsylvania legislature to the Adam Walsh Act, or SORNA (Sex Offender Notification and Registration Act), passed in 2006 by President Bush. SORNA requires each state to create its own sex offender registry with new and harsher requirements. The Pennsylvania law, called SORNA, now requires some children to register as sex offenders. Act 111 was signed into law by Governor Corbett on December 20, 2011. Most provisions of Act 111 and will become effective on December 20, 2012.
PA Juvenile Justice Recidivism Report
Posted May 16, 2013
The Pennsylvania Juvenile Justice Recidivism Report:Juveniles with a 2007 Case Closure
Probation and Parole Supervision Week
Posted May 16, 2013
The work of pretrial, probation and parole is not easy and it may be hard to stay positive in such a stressful profession, but thousands of you, every day, do just that. You know how important your work is to those on your caseloads as well as to your community. Maybe you don't directly supervise a caseload, but every step in the juvenile and adult justice system is important. From making decisions, preparing pre-sentence investigation reports, maintaining data integrity and privacy, to technical and clerical support - it all counts and makes a difference! APPA hopes you take some time now and especially during the week of July 21-27 to feel proud of the profession you've chosen and celebrate your accomplishments.
Ethical Decision Making: Empowering People to Go from "I Can't" to "I Won't"
Posted March 22, 2013
This popular program provides a unique and effective approach to training in ethical decision making (Transformative Ethics) which goes beyond the usual training that focuses on reinforcing rules and policies. Through this highly interactive program, participants are equipped with the self-awareness, skills and tools that empower them to make right ethical decisions. Right decisions build trust and respect and provide the ground for mutual understanding within the agency and in the external community. This course is APPA accredited for 7.5 hours.
Restitution Task Force Report
Posted February 20, 2013
The Restitution in Pennsylvania Task Force was convened by the Pennsylvania Office of the Victim Advocate in collaboration with the Center for Schools and Communities, and brought together key stakeholder individuals, agencies and organizations across all stages of victim restitution work. The Task Force conducted a thorough review of restitution processes at the state and local level in order to identify gaps and develop recommendations/solutions to maximize the justice systems' effectiveness.
Guide to Risk Assessment Implementation Now Available
Posted February 20, 2013
The National Youth Screening & Assessment Project has published "Risk Assessment in Juvenile Justice: A Guidebook for Implementation." The guidebook details the purpose and nature of risk assessment, provides definitions of risk assessment concepts, describes some of the research evidence, and provides in-depth guidance on selecting and implementing an evidence-based tool.
Family Guide to PA's Juvenile Justice System
Posted November 20, 2012
If your child is in the juvenile justice system in Pennsylvania, this guide is for you. This guide was developed by the Family Involvement Committee of the PA Council of Chief Juvenile Probation Officers - a committee of family advocates and juvenile justice practitioners - to help families understand Pennsylvania's juvenile justice system and be better prepared to work closely with juvenile justice staff to promote positive outcomes for justice involved youth.
Sustaining Models for Change Initiatives Through PA's JJSES
Posted April 20, 2012
In 2010, with the five-year commitment of the MacArthur Foundation drawing to a close, it was agreed that a new "Juvenile Justice System Enhancement Strategy" (JJSES) was needed, both to consolidate the innovations of the previous five years "under one roof", and to develop strategies to sustain, disseminate and enhance those efforts. Pennsylvania's JJSES rests on two interlinked foundations: the best empirical research available in the field of juvenile justice and a set of core beliefs about how to put this research into practice.
Pennsylvania's Juvenile Justice System Enhancement Strategy
Posted February 16, 2012
The JJSES grew out of the various initiatives occurring in the state over the last ten years. We continue to keep Balanced and Restorative Justice as our overarching mission and purpose clause of our juvenile justice system. The strategy has three main principles: to employ evidence-based practices at every stage of the juvenile justice process; to collect and analyze the data to measure results; and to improve the quality of our decisions,services and programs.
PA Juvenile Collateral Consequences Checklist
Posted July 27, 2010
The Pennsylvania Juvenile Collateral Consequences Checklist was developed by the Juvenile Defender's Association of PA and the MacArthur Foundation Juvenile Indigent Defense Action Network, to help to explain many of the consequences of a juvenile adjudication of delinquency for youth in Pennsylvania.